Active/Adventure Holidays in Kopaonik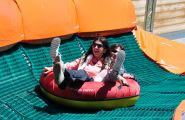 All visitors of Kopaonik, starting from 27 August 2013, can try out the new summer content - tubing. Tubing is a specialized plastic substrate on which it is possible to slide, with the help of big tires, during winter and summer. It is designed for visitors of all ages who share one thing - the desire for a good time.
Read more...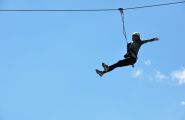 Zip line is a real adrenaline pleasure. This content is available in almost all mountain resorts around the world, and the first set right here, in Kopaonik. For those who have not yet had the opportunity to try this kind of entertainment, zip line offers the ability with the help of ropes "overflights" from one side to the other, with a special panoramic pleasure.
Read more...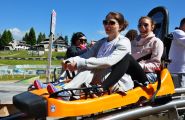 Bob on the tracks (alpine coaster) is a kind of roller coaster that represents the mountainous summer attraction, but can sometimes be used in winter. This adrenaline content represents a specialized course for lowering through the natural forest environment. The installation is equipped with a special sled, attached to the rail system that can be used by adults and children accompanied by an adult on two-seat sleds. Movement is made due to the natural inclination of a circuit.
Read more...