Active holiday in Kopaonik: Tubing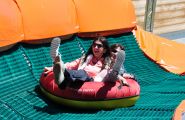 All visitors of Kopaonik, starting from 27 August 2013, can try out the new summer content - tubing. Tubing is a specialized plastic substrate on which it is possible to slide, with the help of big tires, during winter and summer. It is designed for visitors of all ages who share one thing - the desire for a good time.
In parallel with the tubing "path" was built and conveyor belt that will be able to be used in the winter to transport skiers.

"With new facilities we want to popularize active holiday and good entertainment in the mountains during the 365 days of the year." - Said Dejan Ljevnaić, acting manager of Ski Resorts of Serbia.