This kind of new adrenaline content in Kopaonik is represented in more than 10 countries in Europe and tried by over a million amused tourists.
When designing is in question, Mountain cart has greatest emphasis placed on safety:
- Low center of gravity with a wide wheelbase provides high stability while driving,
- A single hydraulic disc brakes provide high safety even on long and steep slopes,
- Ergonomic sitting position to the right to the enjoyment of driving and
- High-quality aluminum construction allows easy handling and transportation by cable car.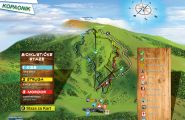 Such constructions enabled both driving experience virtually all individuals - from the athletes and young people through families with children up to the veterans.
Experience a Mountaincart driving pleasure on the slopes of Kopaonik!


Mountain cart you can use from Thursday to Sunday from 10 am to 17 pm.

| | | |
| --- | --- | --- |
| Adventure park - PRICELIST (RSD) | children | adults |
| Alpine coaster - single ride | 350 | 500 |
| Alpine coaster - 3 rides | 700 | 1000 |
| Tubing – single ride | 70 | 100 |
| Tubing - 3 rides | 180 | 250 |
| Adrenalin ride (zip line) - single ride | 150 | 200 |
| Adrenalin ride (zip line) - 3 rides | 350 | 500 |
| Packages for adventure parks - PRICELIST (RSD) | children | adults |
| Tubing + alpine coaster + zip line + cable car ride | 630 | 900 |
| Tubing + alpine coaster + zip line | 420 | 600 |
| Tubing + alpine coaster | 310 | 450 |
| Tubing + zip line | 170 | 250 |
| Alpine coaster + zip line | 350 | 500 |
| One day ticket (all include) | 1.400 | 2.000 |
| Cable car ride - PRICELIST (RSD) | children | adults |
| Single ride | 300 | 350 |
| 3x cable car rides | 650 | 850 |
| Half day ticket | 850 | 1.100 |
| Whole day ticket | 1.250 | 1.800 |
| A two day ticket | 1.960 | 2.800 |
| A three day ticket | 2.550 | 3.600 |
| Bikes and carts renting - PRICELIST (RSD) | children | adults |
| Cart - 1 hour | 250 | 250 |
| Cart - half day | 550 | 550 |
| Cart - whole day | 1.000 | 1.000 |
| Cart - a two day ticket | 1.500 | 1.500 |
| Cart - a three day ticket | 2.000 | 2.000 |
| Bike - 1 hour | 250 | 250 |
| Bike -half day | 550 | 550 |
| Bike -whole day | 1.000 | 1.000 |
| Bike - a two day ticket | 1.500 | 1.500 |
| Bike - a three day ticket | 2.000 | 2.000 |
| Packages for cable car riding, bike park and carting - PRICELIST (RSD) | children | adults |
| 3 cable car rides + 1 hour bike renting or cart | 1.000 | 1.000 |
| Half day ticket for cable car ride + half day bike renting or cart | 1.500 | 1.500 |
| Whole day for cable car ride + whole day bike renting or cart | 2.500 | 2.500 |
| Two day ticket for cable car ride + two days bike renting or cart | 3.500 | 3.500 |
| Three day ticket for cable car ride + three days bike renting or cart | 4.500 | 4.500 |