Bike park is equipped with special tracks with all the obstacles which represents a major challenge for all users of mountain biking. These bike parks exist around the world, and this is the first "downhill bike park" in Serbia. In the Valley sports was built polygon and the verification and improvement of cycling skills.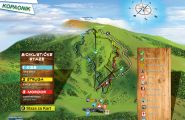 Bike Park project was implemented by MK Mountain Resort, Kopaonik National Park, Association Fristyler, Ski Resorts of Serbia and Slovenia's Alliance, which is made possible that this Olympic sport comes to life in the biggest ski center in Serbia. The trails are of varying difficulty, suitable for beginners and for professionals. On some sections of the earth waves, bandages, wooden bridges, jumps and obstacles. Bike park has been built in accordance with the rules on environmental protection, and the track does not disturb the natural environment.
KGB is a beginner's slope length of 2,120 m and a width of 1.5 m. Average slope gradient is 7%, a maximum slope does not exceed 15%. The larger part of the track is located on the green areas with short work of passing through the forest.
Struga trail is of medium difficulty and enables a fun experience for commuters. On the track there are the inevitable obstacles that do not exceed a height of 0.5 m. The track has a length of 2,100 m and a width of 1 m, and the average slope is 7%. Maximum slope exceeds 10%.
Mordor is difficult trail is designed for the most experienced drivers. The width of the track is 0.8 m to 1 m. It contains a variety of obstacles and jumps that do not exceed a height of 1 m. Average slope gradient of 8% and most of the trails in the forest, and home to the tread pattern is not always stable.
| | | |
| --- | --- | --- |
| Adventure park - PRICELIST (RSD) | children | adults |
| Alpine coaster - single ride | 350 | 500 |
| Alpine coaster - 3 rides | 700 | 1000 |
| Tubing – single ride | 70 | 100 |
| Tubing - 3 rides | 180 | 250 |
| Adrenalin ride (zip line) - single ride | 150 | 200 |
| Adrenalin ride (zip line) - 3 rides | 350 | 500 |
| Packages for adventure parks - PRICELIST (RSD) | children | adults |
| Tubing + alpine coaster + zip line + cable car ride | 630 | 900 |
| Tubing + alpine coaster + zip line | 420 | 600 |
| Tubing + alpine coaster | 310 | 450 |
| Tubing + zip line | 170 | 250 |
| Alpine coaster + zip line | 350 | 500 |
| One day ticket (all include) | 1.400 | 2.000 |
| Cable car ride - PRICELIST (RSD) | children | adults |
| Single ride | 300 | 350 |
| 3x cable car rides | 650 | 850 |
| Half day ticket | 850 | 1.100 |
| Whole day ticket | 1.250 | 1.800 |
| A two day ticket | 1.960 | 2.800 |
| A three day ticket | 2.550 | 3.600 |
| Bikes and carts renting - PRICELIST (RSD) | children | adults |
| Cart - 1 hour | 250 | 250 |
| Cart - half day | 550 | 550 |
| Cart - whole day | 1.000 | 1.000 |
| Cart - a two day ticket | 1.500 | 1.500 |
| Cart - a three day ticket | 2.000 | 2.000 |
| Bike - 1 hour | 250 | 250 |
| Bike -half day | 550 | 550 |
| Bike -whole day | 1.000 | 1.000 |
| Bike - a two day ticket | 1.500 | 1.500 |
| Bike - a three day ticket | 2.000 | 2.000 |
| Packages for cable car riding, bike park and carting - PRICELIST (RSD) | children | adults |
| 3 cable car rides + 1 hour bike renting or cart | 1.000 | 1.000 |
| Half day ticket for cable car ride + half day bike renting or cart | 1.500 | 1.500 |
| Whole day for cable car ride + whole day bike renting or cart | 2.500 | 2.500 |
| Two day ticket for cable car ride + two days bike renting or cart | 3.500 | 3.500 |
| Three day ticket for cable car ride + three days bike renting or cart | 4.500 | 4.500 |