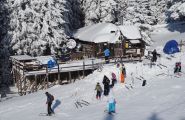 Places which you should certainly pay a visit are cafes, traditional small Serbian cafes. If you want to rest, have a sunbath, get warm, have a drink or something to eat or even use a toilet, these places, right next to ski area, are the best thing to do so.
With its alpine atmosphere, great fireplaces, and of course, our, Serbian, traditional kitchen and drink, these cafes gives recognizable appearance to ski area. Momentarily there are 16 and they are relatively regularly situated through the ski area.

Reporters from the web portal infoKOP.net visited most of ski bars and ski buffet located on the slopes of Kopaonik and noted the prices of food and beverages. Prices were presented at price points ranging from the cheapest to the most expensive, which are found in a price lists. Prices of some items are fairly uniform and sometimes differ only in a dose that is used, while for individual products price difference noticeable. In this article you can see a table with prices and of course, make comments.
1 Euro = 123 Serbian dinars

Alcohol and spirits:

Brandy - 100 to 290 din
Cooked brandy - 140 to 280 din
Bitters - 150 to 260 din
The local beers from 0.33 to 130 to 270 din
Mulled wine - 170 to 280 din
Vodka - 130 to 390 din
Ballantines whiskey - 150 to 420 din
Pear 0.03 to 150 to 290 din

Carbonated, non-carbonated and energy drinks:

Carbonated soft drinks (Coca Cola, Fanta, Sprite ...) - 170 to 250 din
Squash (peach, apple, juice ...) - 150 to 230 din
Guarana - 165 to 290 din
Red Bull - 290 to 440 din

Coffee, tea and chocolate drinks:

Ordinary coffee - from 100 to 150 din
Espresso - 120 to 185 din
Nescafe - 160 to 260 din
Tea - 100 to 215 din
Mineral water - 40 to 190 din
Hot chocolate - 180 to 280 din

Food:

Pancakes (small / large) - 150 to 350 din
Donut - 70 to 230 din
Hamburger - 200 to 790 din
Kebabs 10pc - 510 to 790 din
Gibanica - 250 to 330 din
Flat bread with cream - 140 to 300 din
Hot sandwich - 210 to 370 din
Pork / Lamb 1kg - 1600 to 3000/1800 to 3300 din