Active holiday in Kopaonik: Mountain climbing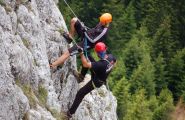 Mountain climbing, as one of the the most extreme form of climbing , represents the highest level of achievements in mountaineering. If you wish, during your stay in Kopaonik, to feel and experience this kind of adrenaline hurry up then, you are at the right place. On location Eagle (White) walls you can try moving up or lowering and passing through the rough terrain (cliffs) with the help of special equipment that serve as insurance against falling.
An experienced instructor will help you to taste a range of attraction between them are lowering a rope down the cliff several hundred feet high, the transition between the two walls, across the bridge made of rope... You just have to gather the courage to venture that will be remembered for a long time.
For reservations and pricelist contact:
- MK Mountain Resort www.mkresort.rs or
- Club of extreme sporst Faith from Kraljevo www.faith.rs