Bus Transportation
Basic Informatios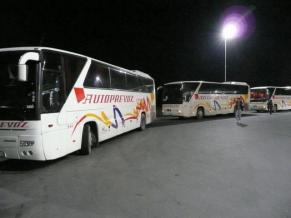 Agency transportation:
+381658874782, +381113373183
SKI BUS:
+381113343656
Bus station Krusevac:
+38137421555, +38137421706
Bus station Raska:
+38136736173
Belgrade Bus Station:
+381112636299
Bus station Nis:
+38118255177
Bus transport is the most common way to travel to and from Kopaonik. Considering that the compact Kopaonik ski center (ski-to-door) bus transportation is one of the best solutions. You will not have any trouble installing car chains, there will be no problems with parking and cleaning out parking spaces and the car itself, you will not have to worry about someone not to damage the car and at the end of the bus will bring you next to your hotel.
Currently, there are four bus lines to Kopaonik and four bus companies. Jugoprevoz Raska twice a day runs between Belgrade - Kopaonik, Autoprevoz Krusevac operates from Novi Sad to Kopaonik, Nis Express from Nis – Kopaonik, while Supernova travel organizes transportation every Saturday and Sunday, charter bus services from Novi Sad and Belgrade. It should be noted that in the days of fewer visits to Kopaonik, there is stopover in Biljanovac organized by Jugoprevoz Raska. There is nothing to worry about, the bus will wait for you, and everything you need to do is to switch equipment and stuff.

In the following table, you can see the arrivals and departures to Kopaonik.
Please inform at bus station before because they can change their schedule:
To Kopaonik
Directions
Departures
Arrivals
Itinerer
Carrier
Contact
Beograd Kopaonik
07:00
12:15
Highway, Kragujevac (09:00), Kraljevo (10:00)
Jugoprevoz Raška
036/736-173
Novi Sad Kopaonik
05:45
12:15
Beograd (07:00), Kruševac (10:00), Brus, Brzeće
Jugoprevoz Kruševac
037/421-555 037/421-706
Beograd Kopaonik
12:00
17:15
Autoput, Kragujevac (14:00), Kraljevo (15:00)
Jugoprevoz Raška
036/736-173
Beograd Kopaonik
08:00
13:00
Agency Transportation >>>
Supernova travel >>>
065/8874782 011/3373183
Novi Sad Kopaonik
06:15
13:00
Agency Transportation >>>
Supernova travel >>>
065/8874782 011/3373183
Beograd Kopaonik
04:30 08:00
08:30 12:00
Taxi >>>
OOOP na KOP >>>
064/0778064
From Kopaonik
Directions
Departures
Itinerer
Carrier
Contact
Kopaonik Beograd
14:45
20:00
Kraljevo (17:00), Kragujevac (18:00) Highway
Jugoprevoz Raška
036/736-173
Kopaonik Novi Sad
16:00
23:00
Brzeće, Brus, Kruševac (18:15), Beograd (21:45)
Jugoprevoz Kruševac
037/421-555 037/421-706
Kopaonik Beograd
14:00
19:00
Agency Transportation >>>
Supernova travel
065/8874782 011/3373183
Kopaonik Novi Sad
14:00
20:00
Agency Transportation >>>
Supernova travel
065/8874782 011/3373183
Kopaonik Beograd
17:30 13:30
20:30 16:30
Taxi >>>
OOOP na KOP >>>
064/0778064