Deputy Prime Minister and Minister of Economy and Regional Development Mladjan Dinkic announced a new investment cycle on Mt Kopaonik in 2010, recalling the state's considerable investments in this tourist resort.
Deputy Prime Minister and Minister of Economy and Regional Development Mladjan Dinkic announced a new investment cycle on Mt Kopaonik in 2010, recalling the state's considerable investments in this tourist resort.
During a visit to the winter resort on Mt Kopaonik Dinkic said that all facilities were ready for the opening of the skiing season. Afterwards, he toured the ski tracks and visited the new four-seat chair lift on Gobelja.
Now that visas have been abolished for Serbian citizens, Kopaonik will have to be comeptitive with foreign winter resorts, the Minister said, voicing his hope that the Serbian resort will easily be a match for them once new investments are in place.
At the Kopaonik tourist centre the skiing season opened two weeks ago and representatives of the public company Skijalista Srbije acquainted Dinkic with the company's achievements in 2009.
The new four-seat chair lift at Gobelja has the capacity of 2,400 skiers an hour, as well as artificial snow generators. The existing ski tracks were expanded during the year and another 10 kilometres of new tracks constructed. Infrastructure investments on Kopaonik in the period 2006–2009 total around RSD 2.2 billion.
Dinkic acquainted the representatives of the tourist sector with plans for further development in investment in Mt Kopaonik.
Source: EMportal


In order to form a larger community of Kopaonik fans, infoKOP site opened Facebook group. We invite all fans to join and to invite their friends. Easier way to get information about news on Kopaonik. Welcome to the official Facebook Page of InfoKop.

We are pleased to inform you that the JAT Apartments is first hotel on Kopaonik, which is completely covered with free wireless internet. ADSL connection is available to all guests', 6mbit connection -that is being forwarded through 9 wireless routers to all hotel rooms.

New photos dating from August 2009 have been posted In the gallery infoKOP site. At the same time you can see the final work on the new lift on the Gobelja ridge.

Skiing in Kopaonik, Serbia is becoming a growing trend for skiers looking to move away from the commercial skiing facilities of Central and Northern Europe in search of more naturally occurring skiing trails.
With a snow range of 1770-2017 metres and a village positioned 5,000 feet above sea level Kopeonik in Serbia is seen as the answer to many skiers' dreams. With a three hour journey from the nearest airport Kopaonik is surely worth the effort, having cross-country skiing, night skiing, skydiving, sleigh rides, ice-skating, indoor tennis and many other activities for the winter sports enthusiast to enjoy.
The mountain climbs 35,000 feet into the cold Serbian sky, whilst ski lifts only climb to 6,617 feet. The skiing facility is yet to host a major skiing event; despite being home to several international snowboarding competitions and cross-country skiing as well. The living quarters are apt for pricing that would delight the weariest of tourists. Skiers can experience national cuisine such as Burek (pastry, cheese, spinach) and Pljeskavica (grilled mince) for well under $10 a meal. The old favorites such as burger, chips and pizza are still on the menu, and the price of $1.50 a beer might delight some holiday makers looking to do slightly more than just ski!
The living area can handle over 5,000 tourists at the same time, whilst the bars and clubs around the area make the holiday destination more suited to the younger holiday-maker. Another issue that is quite prominent is the mistake that many make in travelling to Kopaonik to celebrate Christmas. The celebrations are of slight comparison to western culture, despite its labelling as a winter heaven.
Having 21 lifts and an uphill capacity of 15,000 (an hour) Kopaonik is more than capable of catering for its millions of visitors each year. With slopes facing N, N/E and N/W you can be sure to experience the densely populated villages that surround the region. Thriving from the tourism the mountain provides, Kopaonik has recently became home to a 4 star luxury hotel providing entertainment and accommodation to skiers and executives alike.
With the longest run covering 3.5 KM and expert tuition on hand, Kopaonik has recently benefited from its appointment of English speaking instructors across skiing and snowboarding disciplines. The advanced runs down the Kopaonik mountain-face are a primary incentive for many skiers to choose Kopaonik as their skiing holiday destination. The 6 runs that fit into this category must be epitomised by the Konaci – which a local holiday village was recently named after.
The Konaci has an angle of 79 degrees at a certain point, which it is said that – if you go too slow, and fail to position yourself correctly, it would be perfectly feasible to fall forwards merely travelling in a straight line. The Konaci sees skiers travelling at speeds of over 50 MPH and jumps that allow airtime of over 8 seconds. The Konaci is praised and feared by the top skiers from Europe and further a field. Despite this, the run featured in the 2005 snowboarding event that took place in the Kopaonik mountains.
With snow falling on the slopes between August/September all the way through to early March, skiers should plan their trip with that in mind. The slopes of Serbia and the warm generous nation make Kopaonik an ideal holiday destination for any traveler looking to have a good time on a set of skis. The package deals start from around $400 a week, whilst amazing savings can be made through booking online.
The destination expects 10,000 visitors a week by 2009, and with its intention to develop further runs across every piste you can be sure that Kopaonik, Serbia will be a skiing location that will stay firmly on the map.
Source: visiteurope.com

The current height of snow cover at Kopaonik is 60 cm, and on some tracks even 1m. During the next weekend at service will be 16 lifts and ski tracks. According to forecasts we can expect clear and sunny weather.
PC "Ski resorts of Serbia" invites all ski lovers to take advantage of favorable weather conditions and to enjoy in the extended spring skiing in the ski center.
Source: Ski resorts of Serbia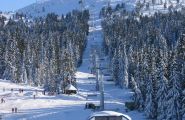 During the holidays ski center Kopaonik visited more than 5 000 peoples, which is the recorded number since there is ski-center, stated the public company "Ski resorts of Serbia." Ski center Kopaonik welcomed all lovers of white tracks with more than 50 centimeters of snow, and all ski lifts were available and ski tracks were perfectly prepared.
The quality of preparedness of ski tracks contributed system for artificial snow making, which was also in the function.
The company "Ecosign" in his proposal that was made for the Kopaonik ski center at the request of the Ministry of economy, came to the conclusion that the capacity of track at Kopaoniku is 3 750 skiers per day. So the center worked with 133% paths capacity.
Also at the selling points for the ski pass is noted that in the case of Occupancy capacity ski center Kopaonik reserves the right to stop with selling ski pass. If you add all of this and that three lifts were not operational, and that the two lifts are only used for drawing up, the question arises who is responsible for all injuries and the crowds on the slopes that occurred that day in the ski resort?

Members of gendarmerie units of the MUP of Serbia in cooperation with tourist Inspection Ministry of Economy and Regional Development, monitorial service "Ski resorts of Serbia" as well as National Park Kopaonik, jointly engaged in maintaining public order and peace and security of visitors to the ski center Kopaonik.
They are also looking after implementation of regulations governing prevention of the use of motor sled and ban illegal ski instructors in the ski center in order to make tourists safe and comfortable stay
Source: Ski resorts of Serbia


During the past three days amount of snow depth has reached the height of almost half a meter. Now we can all finally all relax, because we will have enough snow for quality skiing during the next few weeks.
According forecasters predict during the next few days it will be cold with more snowfalls. Roads are passable, and it is recommended to use winter equipment, for trucks access is closed at Kopaonik.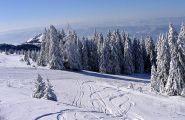 Kopaonik currently has 44 cm of snow and all tracks are in the function except Gobelje greben (under construction), Struga, and Ledenice, Bele reke that work only for the drawing.
No large crowd, except occasionally on the "narrow throat" Marine vode and Karaman greben. There is enough snow on the tracks, they are solid prepared but southern wind makes it softer and more difficult for skiing. At the bottom of the Duboka and Krcmar and shortcuts Jaram - Gvozdac and Knezevske bare - Duboka there is a lot of small stones which is a direct consequence of poor preparation course in the summer period.
It is interesting to note that the tracks Karaman greben and Mali Karaman are marked again (after two decades) replacing the of old unsafe metal markers. We hope that the other tracks by which its position should be better marked also receive new marks for easier and safer circulation of skiers.

It has been snowing a lot at the mountain the last two days, bringing a snow depth of almost 40cm and it has improved the overall situation on the mountain.
If we talk about the snow, now we can finally all relax, because we will have enough snow for quality skiing during the next week's.
According to forecasts, it will be cold during the next few days with more snowfall. Roads are passable, it is recommended to use winter equipment, for trucks access is closed at Kopaonik.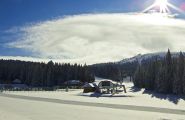 Spectacular cultural tours, winter sports, music festivals and cities such as Belgrade and Novi Sad, which are ideal for a weekend break, are the main attractions on show at the Serbia stand at FITUR'09.
The country will also promote its cultural tours, such as /Remains of the Roman Empire/, which explores Serbia's many fortresses, palaces and cities and /Castles of the Danube/.
Serbia will also promote winter sports and outdoor activities at FITUR/09, highlighting the possibilities offered by Kopaonik, one of the country's top ski resorts which, along with other less well-known areas, are a paradise for lovers of hiking, fishing, rafting and outdoor activities during the summer months, thanks to their mountains, lakes and spectacular natural environment.
Source: Travel daily news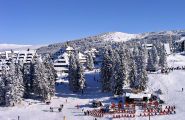 Goran Petkovic, State Secretary for Tourism talks about the third master plan for Kopaonik for daily newspapers"Blic".
There are currently analysis of existing accommodation and entertainment capacity and ski resorts, access roads for parking, and all about what we know that is a problem, as well as the proposal for the next phase of development. Kopaonik has great potential and we have identified some of his two possibilities in its further development. Furthermore, we have several evident problems that we need to be solved. Traffic jam is crucial, too many private cars in the insufficient capacity for parking, water supply and waste water, as well as inadequate structure of the existing ski resorts. Namely, according to the old system when the ski lifts were to be disposed, tender was placed for each ski lift and manufacturers applied for it, who then built ski lift at a certain place, that were for them, in a certain period of time, economic optimum, and not in the way that suited best for the skiers.
Foreigners disapprove because ski lifts are not placed on the optimal way. So, when we know which of the two options will be approved, then we will know new reschedule of ski lifts. This is a long-term plan that will work for a few years. Some of the ski lifts will be taken off and moved to another tracks, perhaps even to other mountains and ski resorts will be optimized from the aspect of winter, but also from the aspect of summer sports.
Source: Blic


During the last few days in Kopaonik was expressed phenomenon called temperature inversion. It is a condition caused by increasing atmospheric temperature with altitude, the resulting layer of hot air prevents rising of cooled air that is below. To our great sorrow it resulted with rain that was falling during day (January 13). Also, for two days a strong southern wind was blowing and makes ski conditions even harder it leads to faster melting this scarce snow cover. Less snow precipitation can be expected at the end of this week.

Ski resorts of Serbia is notifying that teaching skiing in the ski resort in Kopaonik can be performed only by ski instructors that are engaged by the ski school, which has approval and signed contract with JP "Ski resorts of Serbia."
All persons who made unauthorized services teaching skiing in the ski resort, managed by JP "Ski resorts of Serbia", ski pass will be temporarily or permanently subducted.
Persons who are using services training skiing by unauthorized persons are doing that on their own responsibility.
Source: Ski resorts of Serbia

Putting into operation a new system for artificial snow worth 218 million dinars, yesterday opened the Kopaoniku winter season. Symbolically, promotional race was opened by the Minister of Economy Mladjan Dinkic, who had that opportunity to ski among the first ones across Karaman greben.
Dinkic stressed that he is very satisfied because "our winter beauty finally has a system for artificial snow, that way we will not depend on the weather conditions."
"The system for artificial snow works on three tracks - Karaman greden 1 and 2 and Pancic vrh" he said and pointed out that the next year the whole Kopaonik should be covered by the system for artificial snow.
Time needed for covering ski tracks with snow in Kopaonik is 72 hours; in the function will be old system, which will be combined with the new one. New artificial snow-making system has 47 pillar devices for the production of artificial snow, three mobile cannons, ten combined coal-pits on the new bar and 40 port places on the route of the old system. Fixed posts are in the network system in which is five kilometers underground installation that pulls out the water from the artificial reservoir "Mali Karaman".
Until March 2009, at the Kopaoniku should be finished building a new four seat lift Gobelji, which will be able to transport 2,400 skiers per hour.
Source: Blic


Bine Zalohar, one of the best European freestyle acrobats, will come to SkiCross, to show the Serbian audience breathtaking ski jumps. Bine has already proved how good he is, among other things, and as a participant in actions of pro team SNOWMANIA. His acrobations can be seen in films SNOWMANIA. The most credit for arrival of young Zalogar belongs to company RED BULL, who heartily helps BSK in Old Town (Stari Grad) in organization of Ski Cross.
Bine is truly unique, so come and see his acrobations at Kopaonik, Saturday 27.12.2008.
Don't let the credit crunch cramp your style this winter: there is still sensibly priced skiing to be had in Eastern Europe – but make sure you know what you are in for, says Stephen Wood


It was a vintage year for Balkan skiing. In 2005, Serbia was back in the mainstream, featuring in the Thomson ski brochure thanks, in no small part, to Serbian-born Stevan Popovich, a 20-year veteran of the UK travel trade. In the same year, the other truly Balkan ski destination – in the sense that, like Serbia, it has slopes in the Balkan Mountains range – began once more to make inroads into the budget end of the UK market: as Andorra lost ground, Bulgaria gained it.

Not coincidentally, I skied in the two countries that year. And both trips were memorable, even if the skiing was not very stirring. The visit to Kopaonik, Serbia's main ski resort, and to the capital, Belgrade, was full of incident. In the "new frontier" economy after the fall of Milosevic's post-communist regime, the few were suddenly making money, the many were trying to follow suit, and only the senior apparatchiks were still playing by the rules. At Belgrade airport's petrol station, the forecourt attendant bizarrely tried to charge me more than the amount displayed on the pump; and a representative of the state tourism organisation – such a cowboy that it was amazing he didn't wear chaps – commandeered my hire car and proceeded to spin it twice on the snowy roads of Kopaonik, avoiding the parked cars only through extraordinarily good luck.

The skiing was pleasant and peaceful: the part of the slopes on which mines had been dropped by Nato aircraft during the Kosovo war was closed (as it still is, I believe). The central part of the resort, a purpose-built ski village modelled on the defensible monasteries of medieval Serbia, absolutely beggared belief. When I look back on the trip, during which I became hopelessly lost in a blizzard in Belgrade, it seems like a fantastical dream.

Ask Popovich generally about Balkan skiing, on which he is a seasoned expert, and he becomes somewhat evasive. But that is for political reasons. The wars in the former Yugoslavia did great damage to Serbia's ski business (Kopaonik is right on the Kosovo border) and virtually killed off Bosnia-Herzegovina as an international destination, despite the Winter Olympics held in Sarajevo in 1984. They also made "Balkan" something of a dirty word. Although Popovich is clear that Romania and Slovenia are Balkan ski destinations – "They're both in the Balkan peninsula, aren't they?" – he understands why they don't emphasise the fact.

Serbia is obviously close to his heart, and it is a disappointment that Kopaonik no longer features in UK ski brochures. "When we reintroduced it with Thomson in 2004/5, it was good value and sold well. At first we used BA flights into Belgrade, which was not ideal: the transfer was too long. For the second season we had a charter into Nis, which was much closer. But Kopaonik's bed base proved a problem: accommodation is limited, and the National Park location hinders development."

A further difficulty was Serbia's visa regime, which made travelling abroad difficult. As a result, Kopaonik's prices were effectively set by the home market – at too high a level for budget skiers from the UK. The charter flights couldn't be filled, and after three years, Thomson dropped the programme.

Source: The Independent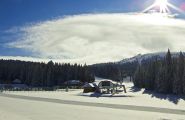 Tourist winter season in the ski resorts of Serbia is to begin on December 10, if there is enough snow. Prices for ski pass are defined for this season, and a discount of ten percent will be offered at EXPO-ZIM fair. Until 28 Decembar at Kopaonik, daily skipass price for adults will be 1.700 dinars, and for children 1.100 dinars.
Starting from 29 December untill 2 March 2009, skipass price will be 1.900 dinars for adults and 1.300 for children.
Promotion is available until 28 December at Stara planina, and after that untill 2 March daily skipass for adults will cost 750, and for children 500 dinars. At Zlatibor promotion is available until 28 December, and after that until 2 March the price of daily skipass will be 1.150 for adults and for children 800 dinars. Public company "Ski resorts of Serbia", in the preparation for coming winter season, invested around 600 million dinars.
Source: "Business morning"

Snow fell on the mountains of Serbia and is ready for this tourist season, and Ski resorts expect that they will sell this week the first ski pass. This year in Kopaonik was invested around 610 million dinars, in Stara planina about 348, in Zlatibor about 157 and in Divcibare about 39 million dinars. Great attention was devoted to our finest mountain, and it is expected that in the"Kop" this season all will pass well. "Cannons for artificial snow and strainers for snow are ready, lifts are ready, ski pass are printed and waiting for the opening of the season," said Nebojsa Skoric, director of Ski resorts in Serbia.
This year, Kopaonik has on its disposal a large trauma center – doctors are being provided, X-ray device are purchased and sanitation vehicle as well. Police will send a specially trained unit for possible rescue skiers. The streets are paved, sanitation of water supply and soil-pipe began repairing, and artificial lake has been built. "The only" problem are hotels with disproportionately cost in relation to his modest proposal. "Privatization of "Genex "hotel on Kopaonik, we have waited for so long. The new owner ("MK group") will certainly develop this center during the whole year, and hotels will not, as up to now, close in April. I believe that the new owner renovation of its hotel will force others to raise the level of their services, said Skoric".
Source: Ski resort


Kopaonik this winter will probably remain without tourist from Great Britain, because these agencies "Tomson" and "Balkanika holiday" quitted cooperation, said yesterday director of the Tourist agencies of Serbia Gordana Plamenac. British have been recent years frequent guests at Kopaonik.
She explained at a news conference that these agencies indicated that they did not have with whom to talk, considering that hotels in Kopaonik are in the process of privatization, and no one considered competent to negotiate.
Plamenac pointed out that "Ski resorts Serbia (Skijaliste Srbije)" makes enormous efforts to this winter season begins at the mountains and finish successfully.
Referring to the global financial crisis, which, according to estimates of experts, will have bad influence on tourism next year, and improvement can be expected only at the end of 2010, Plamenac showed at the conference forum of global economic in London that recommendation for European countries is that they should turn to their own region.
Source: Business Newspaper

Traditional fair of winter sports equipment and accessories, winter tourism offers will be held from 4-7. December in the hall 1 of Belgrade Fair.This year's fair opens celebrated skier Bojan Krizaj.
Fair description: Sale of new equipment for the winter and winter sports (skis, shoes, skates, snowboard, jackets, overalls, sledge, gloves, glasses, hats, etc.). Offer and sale of tourist packages. Exchange and sale of used sports equipment. Fashion shows. Presentation of new equipment and accessories.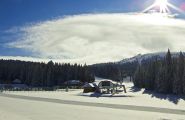 The Privatization Agency announced today that the MK Group International CG for the tourist facilities on Kopaonik offered 23 million euros, which was the minimum price for participation in the tender.
The statement says that the only bidder in the tender MK Group from Belgrade meet qualification requirements and that the Privatization Agency, in cooperation with the privatization adviser, will evaluate offer of the company within 30 days.
To tender for the Grand Hotel and other tourist facilities Intrernacionala CG to Kopaoiku there is only MK group with a partner, the Austrian Tourist group Falkensteiner Mićaeler.
Source: Mondo


In the second attempt, without competition, the owner will be businessman Miodrag Kostic of five hectares of "Geneks" hotels and apartments for less than 500 Euros per sq.m.
Luxury hotel "Grand", "Sunny peaks(Suncani vrhovi)" restaurant "Zvrk" and 102 apartments that were once used for employees that day will be in property of Miodrag Kostic, the owner of "MK Group ". The "slalom" to the top of Kopaonik Kostic had no competition and everything will bought for about 23 million Euros or euro more.
On retransmission tender, as we learn, and five interested buyers purchased the documentation, but in front of the Tender Commission, there was only one bid, and the one from Miodrag Kostic. More exact, bids with two envelopes. According to the rule, in the first envelope buyer sends his personal data and references, in that way he proves to the Commission that he meets all the rules for the purchase, and in another, smaller, offered price. The first envelop Commission has opened on the 31st October and concluded that the mentioned company and its owner Miodrag Kostic meet all the prescribed criteria. It has been found, also, that he is the only buyer. Financial offer - or smaller envelope will be open on the 6th November. On the first tender, were no offer arrived, sought for "Geneks" property on the Kopaonik at least 45 million Euros, and the new requested the reduced price of the initial 23 million Euros.
Given price, therefore, may be one, three, or one euro more than the initial, and all that for 50000 sq. m of the hotel, restaurant and accommodation space, popularly told, five hectares under the roof. Another calculation shows that this property will be purchased for price lower of 500 Euros per square. Trifle, we would say, but so it is for ones who know their business. This is for free, claim employees who work on this mountain; they do not wish to be mentioned by name in the newspaper. They claim that for that price you can sell square five kilometers below, in the famous "cottage settlement (Vikend naselje)", but near "Grand" is considerably more expensive.
All of this I do not want to comment - says Zoran Panović, chairman of trade union organizations "Genex" in Kopaonik, and a member of Tender Commission. - Except that the buyer accepted the social program and 253 employees, has accepted and that there will be no dismissals for two years and for the year there will be no technological excess, without the consent of workers and payment of 400 Euros per year of service. We are dissatisfied with delayed payment of 200 Euros per year of service on behalf of the stocks that we were promised in the name of the Ministry for Regional Development, and lists already lengthy wait. The story about sales of "Genex" property on the Kopaonik does not want to comment nor Jova Vrankovic, the general director of Genex, except that indicates dissatisfaction of the leadership and workers with recently adopted conclusions of the Serbian government. According to decision of the government, remaining assets of the company will be taken away at the Kopaonik, it refers to part of the space in the office building, technical bases and three restaurants on the slopes. It will be divided between the municipalities Raska and State i.e. public company "Ski resorts of Serbia (Skijalista Srbije)" As a result, a few days ago, on the mountain workers organized protests.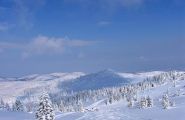 Minister for national investment plan Verica Kalanovic, State Secretary for Tourism Goran Petkovic and acting Director-General PC "Ski resorts Serbia" (Skijalista Srbije), Nebojsa Skoric today have set cornerstone at the site Gobelja at Kopaonik, and with this start officialy building new four seat lift on this mountain.
"This is the beginning of the planning of investment in Kopaonik, and investment in infrastructure on this mountain is supposed to convert to center that meets all standards of modern European centers. After a detailed analysis of a master plan, investment will be continued" the minister for NIP Verica Kalanović and added that the development of tourist infrastructure secures inflow of funds from the tourists as well as the development of Brus municipality and Raska.
Secretary of State for Tourism Goran Petkovic said that the its modern four seat lift and that is the beginning of its construction is announcement of the planning of investment in Kopaonik. He added that it will be, when at the beginning of the next year, the results are known a master plan for this mountain, they will know how to develop the ski resort, summer facilities and hotels.
"Consultations With the contractors of a master plan was completed and lift" Gobelja "has already been engaged into this plan," said Petkovic, and pointed out that this project will open doors to new investors.
Ski resorts Serbia is ready for the forthcoming winter season and, according to the acting Director-General of the company Nebojsa Skoric, in the course of the finishing work on the installation for artificial snow, new strainer for snow has been acquired, and the tracks will be prepared at the European level.
New ski lift at the location Gobelja, manufacturers Doppelmayr, will be transporting up to 2.400 skiers per hour, the momentum will be 5 meters per second. Driving cell will be at 1.694 and turning station at 1.926 meters above sea level. Total length of the four seat litf will be 840 meters.
The value of these investments is around 253 million dinars, and it is financed from means of investment plan.
Source: Business newspapers

Kopaonik
is the largest ski resort in Serbia and is undoubtedly one of the most beautiful centers in this part of Europe. In addition to representing one of the most beautiful mountains in Serbia, Kopaonik can be proud and incredibly natural potential with 200 sunny days and 160 snow days in a year. Unfortunately, the charms of the most popular Serbian mountain will be able to enjoy only those who have more money, because by the end of the year family with four members for seven days needs almost 2.000 Euros.
Tracks
Ski tracks on Kopaonik provides enjoyment to all categories of skiers, from beginners to top-level skiers abilities, and make stayment on the Kopaonik unforgettable.
Kopaonik ski resort has over 40 kilometers of trails arranged for alpine skiing and around 20 kilometers of trails for Nordic skiing. For lovers of night skiing there is alight track "Malo jezero". In the case of unfavorable weather conditions, there is a possibility of covering parts of tracks with artificial snow.
Prices

In the first local agency offers you will need to organize on your own transportation to come to the Kopaonik, and prices of return bus ticket is 1.550 dinars. Except for transportation, adults will have to spare more than 120 to 170 dinars for the costs of tourist tax and insurance (depending on the agency), while for children of seven to 15 years, this amount decreased by 50 dinars.
Ski-pass, also, is not included in the price, and seven days skipass for adult is 4.900 dinars, for children 3.200, while for older people from 65 to 75 years of age price is 3.700 dinars. One day ticket costs 1.800 dinars, and those who love night skiing will have to pay for this pleasure extra 900 dinars. Unfortunately, these are the prices of ski-pass that will apply to the end of the year, and there is a possibility that, when the season starts, they will be even more expensive.

Source: Alo

Read more...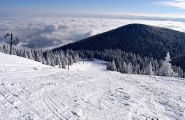 Kopaonik is mostly prepared for this season - began with work on installing new cable, or build a new ski resort on Gobelja, and other tracks are being repaired.
So far there were only two small ski resorts, inconsiderable capacity, and this year it will be installed four seat lift, which means that the focus of the recreational center is moved from Raška to Brus side.
"Parallely with this, finishing touches are being made on antierosion work and preparation of tracks, that will be on a much higher level, on the various mountains, from Kopaonik, till Stara planina, to Divcibare and Tornik on Zlatibor," said State Secretary for Tourism Goran Petkovic.
He announced that this year for the first time will be installed and meteorological stations, which will be a public character, and data available to other public services - for the Republic Hydrometeorological Institute and for the Directorate for flight control.
"With them we will be able to provide much more accurate weather forecasts for the development of the situation in the coming period, which will be published on the sites of Stara planina, Kopaonik, Zlatibor and Divcibare", said Petkovic.
He announced that the local health station will get new equipment also, so that both sides of Kopaonik can get two new trauma centers, and agreement was made with municipality Knjazevac and "Ski resorts of Serbia (Skijalista Srbije)" to put at the disposal of the new outpatient vehicle with a mobile trauma center.
Source: Mondo


Agency for Deposit Insurance of Serbia (AOD) announced for the second time tender for the sale of hotel Investbanka at Kopaonik, at the initial price of six million Euros. It is alleged, this hotel with four stars in Staro Rudiste, part of the property in liquidation Investbanka , with a surface area of 2.239 square meters and sales along with the entire inventory and the right use 18 are ground.
The hotel is located about 500 meters from the center of a tourist complex on Kopaonik, near ski lifts and in 33 suites has 140 beds. On the first failed tender, closed the 26th September this year, initial price for hotel Investvanka was 594 million dinars (about 7.7 million Euros).
Source: AOD


Tenders for a property of a company "International CG "on Kopaonik will be held on 29th October, initial price will be 23 million Euros.


In the call, for interested buyers, it is stated that the retransmission initial tender prices for property, "Genex" on Kopaonik will be 23 million Euros. On the first tender, published in December last year, initial price was 45 million Euros, but has not received any binding bids.
On sale are offered hotels "Grand" and "Sunčani vrhovi" (Apartments "Konaci"), as well as 102 apartments and a restaurant "Zvrk", the Agency for Privatization announced.
Condition for participation in a tender is to deliver the guarantees of six million Euros, and evidence that the interested buyer operates in the international market and has a trademark (brandy) in the resort hotel and that has at least 10 hotels with four stars. The deadline to send the offer to purchase the assets of a "Geneks was 22 October.

Source: Agency for Privatization

Public company "Skijališta Srbije" continues to work on the systematic arrangement and preparations for the coming ski season. The ski centers in the course of the performance anti erosion works that will run every year in the ordinary course investment maintenance of ski resorts. These works are executed in order to reorganize existing damages at the ski trails and a prevention of creating new damage that may arise because of effects due to natural factors.
The work intensify in the ski center of the old mountain trails Konjarnik 1 and Suncana dolina, and similar work is performed on the Crni vrh at the Divčibari. Anti erosion protection is being performed at the ski center Kopaonik as well as in ski center "Tornik" on Zlatibor.
Source: JP "Skijalista Srbije"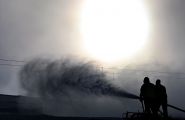 Public company "Skijalista Srbije" announce that in the preparation of the coming winter season invested around 600 million dinars.
Acting General-Director of that company Nebojsa Skoric told Beta that the works underway for artificial snow at Kopaonik, should be finished in November this year.
"In the first phase of the snowing paths Pančićev top and both tracks Karaman greben.
The value of the equipment and work on the construction and assembly is around 2.1 million Euros, said Skoric, adding that the
location Gobelja on Kopaonik bought new four seat lift
.
Skoric said that in the course of 2008 the antierosion perform works and works on the arrangement of ski trails on all the mountains. Speaking about the lift capacity of the four ski center - Kopaonik, Zlatibor, Stara planina and Divčibare, he said that now amounts is 35,000 skiers per hour, and that with the construction of new lifts and elevators, capacity will be increased for an additional two to three thousands of skiers per hour.
"Expansion of capacity lifts and ski lifts will take place gradually - Stara planina as part of plans Developer Jabučkog plain, and on the Kopaonik mountain in other centers to gradually replace obsolete installation with new installations of greater capacity," explained Skoric.
Source: Beta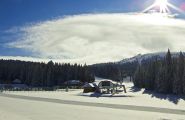 Serbia will this year, according to NBS indicators, have gainful tourism earnings than last year, because the foreign currency inflow in June was six times greater than last years in the same period. By the end of the year, TOS shall have more promotions of international trade fairs, and valuable jobs are expected during the visit to the world's leading turoperatora that Serbia would be happy to have in the offer, writes Jelena Gligorić.
Secretary of State for Tourism Goran Petkovic does not hide his satisfaction that this year's development activities take place as planned, or that some projects will be finished by the end of the year. Specifically states mountain work on the revitalization of the center Kopaonik. At the tender was elected the best provider for work on the new lift Gobelja, where for the forthcoming season sets a new installation to open another part of the Kopaonik ski resort. These plans are running in parallel with developing master plans for the development of well-known winter center in Serbia. At the Kopaonik privatization process is in process. These days bits will be collected, and until the end of the month it will be known the names of the new owners of hotels and apartments, Geneks capacity on this mountain.
Source: Voice of Serbia

Tour organizations Thomson and Crystal for this season will not offer wintering at Kopaonik. By all odds the past two seasons dealed with losses and for this season Kopaonik eject from their offers. In the future, there is a possibility that the Kopaonik will be back on the list of desirable destinations, but this will depend on a range of factors (the price of fuel, the price and ownership of hotels, the EU accession of Serbia ...).
We can only hope that it was not a reason for stoping this season with investments in ski infrastructure (lift at Gobelji, the system for artificial snow...).

After a very "bad flight" and modest sales arrangements for the fall, at the Kopaonik all eyes are fixed on the winter which could be repaid to lack of tourists in July and August. But successful season requires a good preparation, which, in the view of many, "will not be possible" until end "Sunny peaks," "Grand", "Zvrk" and other "Genex facilities, which are still of last year advertised for sale , do not get a new owner.
Who will be the new boss representative of the Kopaonik, depends on the work and all the other hotels on the mountain, it means the most likely by the end of October because it is a selection of unknown reasons extended for another month.
- According to our knowledge, several businessmen, local and foreign, purchased the Tender documentation, but it still does not know whether it will be all of them appear on the tender and who will offer as much. We would like that "Grand" and "Konak" buies someone who is powerful, if its possible from the industry, someone who will invest in Kopaonik, and employ an experienced staff who works here already exists. The worst would be that now, when you need to prepare for winter, lost the second tender - says Zoran Panović, president of Independent Trade Unions in the Genex-Kopaonik. "
The first tender for the sale of "Konak", "grand", "Zvrka" and severaal hundreds flats in Raški and Kopaonik, with a starting price of 45 million Euros, lapsed in March, because there was no interested buyers. Now the price is bisected, and significantly, "Loose" and the conditions of sale. Nor to how better to claim referred to this mountain, is not a guarantee that the "pride of the Serbian ski-tourism" will soon get a boss.
Some believe that someone deliberately down the price to "Gigante" bought more cheaply, and others that there are unresolved property relations between "Genex - JP" Ski resorts Serbia "and" Genex - municipalities of Kopaonik, driven away potential customers.
Winnow Ski Resort
ALL-ski trails and ski lifts on Kopaonik are owned by Public company "Ski resorts Serbia" and that ingather largest revenue on the mountain. After extraction, "Ski resorts", was abruptly disinterested in buying the best-known hotels at Kopaonik. Potential buyers fears that if only the catering services, in a relatively short ski-season, can earn something.
Source: Večernje Novosti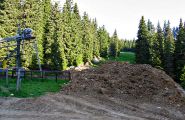 After years of promises that something will be done with artificial snow on Kopaonik, preliminary work has begun. On the picture for this news you can see enlargement of of the existent lake under Mali Karaman which will be used as water accumulation for producing artificial snow.
According to former announcements, for this winter season we can except artificial snow at Suvo Rudiste and Karaman Greben. As for other novelty, we can see that digital tables are placed at the entrance of Konaci, Jaram and Karaman Greben while the existed ones are placed on the better metal constructions.
Part of the road from Jaram to Brzece is covered with new asphalt while the rest of the road was pieced up.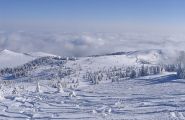 Number of photos of infokop site gallery is now enlarged for more than 300 photos, precisely 333 photos. These photos were taken in December 2007, January, March and June 2008. Take a look…
Decembar 2007. >>>

Jat apartments and infokop site installed one more, but modern one, IP cam at the roof of Jat apartments instead of first webcam on Kopaonik. New webcam is being reloaded every 30 seconds and it owns far more better dynamic range so the night photos should be much better quality.
The old webcam is now looking at parking in front of Jat apartments and she will be mobile character.

More than a year has passed since infokop.net site started working, number of visitor's overruned million visits and over six millions open pages and that way became one of most popular sites about ski in region.
We would like to take this opportunity to express our gratitude towards each and everyone of you who have helped in any way to build up this web portal as well as all visitors who obliged us to be better in the future. Thanks once more.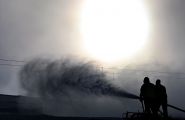 It was snowing for 36 hours. After the snow has stopped falling it brought new 25cm of snow cover. In the afternoon sun brighten Suvo rudiste where old snow cannons were working.
Take a look at several photos from that day clicking on read more.
Read more...

Serbian Minister of Economy and Regional Development Mladjan Dinkic announced that tender sales of the company Genex will be published on December 29.
According to him, the offers for Genex will be submitted until March 24, 2008, whereas the auction bidding is scheduled for March 31, 2008.
Genex's properties in New Belgrade's block 20, including the Continental hotel, and hotels on Kopaonik Mountain will go private first, Dinkic explained and added that only renowned companies guaranteeing for takeover of employees and four star hotels on Kopaonik will be able to purchase.
Dinkic said that the registration of citizens for getting the right to free shares could start after the adoption of the law regulating this right.
He also presented Ministry's work in 2007 and said that 750 socially-owned companies are yet to be privatised, 97 of which will be sold in a tender.

Starting from today and for next weekend it is planed operating eight ski lifts if weather conditions allows it. Those ski lifts are: Malo jezero, Pancic, Karaman greben, Mali karaman, Marine vode, Karaman, Duboka II i Masinac. Work time of ski tracks and lifts is 9-15:30h.
According to weather forecast for next two days, weather conditions are not so encourage. We can only hope for sunny days but having in mind what time of year it is we can be thankful that we have any conditions to ski after all.

It is our honor to represent to you new site of Jat apartments with whom we have more than great cooperation. On this site you can reserve on-line accommodation or reserve place for you on New Years Eve in restaurant Boeing or simply see and inform yourself about what Jat apartments have to offer.
The thing that marks out Jat from other accommodations on Kopaonik is great relation between price/quality of service. To modest opinion of author of this site, Jat apartments are one of rare ones on Kopaonik and the thing that distinguishes them from other is way they think and their seeing of what one accommodation should offer to its quests in one modern ski center. We can bring example of all that. It is setting up first web cam that we had installed together and placed it at the roof of Jat apartments.
You can visit new site at this address www.jatapartmani.com
After passed three weekends ski pass was soled by promotional price, on 4 December JP "Skijalista Srbije" finally gave prices of ski pass for this winter season. Prices are on the same level as last years and price list of ski pass is valid from 4 December.
SEASON 07/08

04.12. - 27.12.2007.

01.03. - 04.05.2008.

28.12. - 29.02.2008.

type of card and age

children
5-12

years old

adults

seniors 65-75

years old

children
5-12

years old

adults

seniors
65-75

years old

children
5-12

years old

adults

seniors
65-75

years old

deposit

400

400

400

400

400

400

400

400

400

half day 09–13h

700

900

700

700

900

700

800

1.000

800

half day

12.30h

800

1.100

1.000

900

1.200

1.100

1.000

1.400

1.200

night 19–22h

700

700

700

800

800

800

900

900

900

one day

1.000

1.600

1.100

1.100

1.700

1.200

1.200

1.800

1.300

two days

1.900

2.900

2.100

2.000

3.000

2.200

2.100

3.100

2.300

three days

2.800

4.300

3.200

2.900

4.400

3.300

3.000

4.500

3.400

four days

3.700

5.500

4.200

3.800

5.600

4.300

3.900

5.700

4.400

five days

4.400

6.600

4.900

4.500

6.700

5.000

4.600

6.900

5.100

six days

5.000

7.700

5.800

5.200

7.800

5.900

5.300

8.000

6.100

seven days

5.600

8.700

6.600

5.700

8.800

6.700

5.900

9.100

6.900

ten days

7.100

10.900

8.200

7.300

11.100

8.400

7.500

11.400

8.600

season ski pass

30.000

50.000

40.000

35.000

55.000

45.000

35.000

55.000

45.000
Notification:
*Prices are in dinars
* Deposit for ski pass card is being charged during each bought and he is being refunded after your ski pass expires and its restore to sales place on Kopaonik or in Brzece.
* Purchasing of ski pass is only enabled in places planed for that on the part of JP "Skijalista Srbije"

* Children to 5 years old and veterans over 75 years have ski pass for free.
*Discharge for groups – on 50 ski pass you have one for free (with list of participants), except in high period of season during New years holidays and during school and students vacation. In case of currency disturbance on market, as on market of goods and service, JP "Skijalista Srbije" restrains its right to corect prices.


Traditional fair of winter equipment and requisites, winter tourism offer will take place from 6-9 December in hall 1 of Belgrade fair. This year fair will open celebrated skier Alberto Tomba.
Content of fair: Seals of new winter equipment for winter sports (ski, shoes, snowboards, jackets, sleights, gloves, eyeglasses, hats, etc). Offer and sale of tourist and travel arrangements and accommodation. Exchange and sale of second hand sports equipment. Fashion shows. Presentations of new winter equipment and requisites.
During EXPO-ZIM fair, JP "Skijalista Srbije", will sale ski pass for Ski center Kopaonik, with discount of 10%.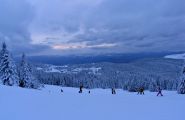 In past two days snow cover reached its height of 50 cm. Morning like this is real example of how winter day can be beautiful, temperature od -10C, wind speed 4m/s, cloudiness 0, visibility over 4km, and with number of skiers you have impression your alone.
Result of that is only Karaman greben is in function, but for weekend we can expect three more ski lifts to be in function if number of guests raise.
Roads are passable and winter equipment is necessarlly.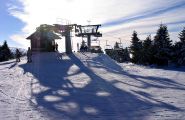 Our friend Nikola Vukelic visited Kopaonik last weekend. During that visit he made set of fine photos which he decided to share with us.
You can see those photos on next
link >>>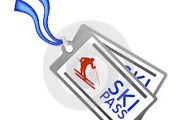 At ski center Kopaonik, on thursday 15.11.2007. begins promotional skiing. After snow cover has formed and in last two days ski racks were being prepared, ski lift Karaman greben will start working.
Ski center Kopaonik detains its right to keep certain number of instalations working guiding itself with principles of comfort skiing and mimimum economic principals.
Promotional price of ski tickets for period from 15.11.2007. until 30.11.2007.(work time 9-15h):
Period

15-30. november 2007.

For

children 5-12age

adults

One day

7,1€

10,33€

Two days

12,27€

18,72€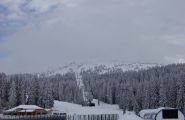 According to informations from JP " Skijalista Srbije", tommorow on 14. november officially winter season 2007/2008 will be open. Ski lift Karaman Greben will run from 9h to 15h. Ski track is prepared and price of ski pass will be the same as last year in december with discount od 20-50%.
From the number os skier depends if some other ski tracks will be opened.
Also, according to announcements exact price list should be published during afternoon.
Road is passable, but few kilomertes from Kopaonik there is snow on roads so it is recommended ti own winter equipment especially because of inconstant winter conditions.
Take a look at four photos from 12. december downloaded from ICG Kopaonik.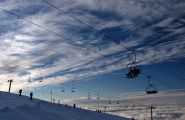 Exactly one year ago, on 30. october, InfoKOP site has began with its work. In its first year we have had over half of milion visitors, nearly 1.5 milion page impressions, submited over 2000 impressions, over 5000 messages were writed at forum, 3200 photos of Kopaonik were published, 1200 comments has been submited on published news.
We have installed first two web cams at Kopaonik, we are daily updating ski info and weather forecast and much more than this.
We would like to take this opportunity and express gratitude to all visitors and all the others who have helped anyhow in makeing this site and its work.

After couple days of work, over 20 000 entries, Infokop site enabled to its visitors access in ski info in last five years. Choosing day in ski info section you can see archived standard data for each day starting from 2002/03 season.
Makeing of such one base enables us to make other interesting statistics data through other different graphics. You can see graphics of snow height and daily temperature collectively at 8am as for three the most important ski months (January, February and March).
Take a look>>>
This are photos of october melted snow taken from ICG site:

While we are all waiting for winter season to begin you can take a look at
photo gallery
from July this year. Some of the photos were taken three months ago when the temperature reached its maximun, over 30 degrees.
Just see Suvo Rudiste and Pancicev vrh, you'll see they look more like beach than like mountain peaks
>>>

While we are all waiting for winter season to begin you can take a look at photo gallery from July this year. Some of the photos were taken three months ago when the temperature reached its maximun, over 30 degrees.
Just see Suvo Rudiste and Pancicev vrh, you'll see they look more like beach than like mountain peaks
>>>

According to information's from JP "Skijalista Srbije" site, construction of ski lift at Kopaonik that will have start station at settlement Treska and exit station at Suvo Rudiste, will be delay until 2008.
Also construction of ski lift from Kosovo side will be postpone fore some better days to come.
At just ended fair of tourism that was kept in Novi Sad from 9-12 October, JP "Skijalista Srbije" represented new ski map of Kopaonik.
At first site we can see that eaven new map has smaller mistakes. The larger one is incorrect sketch of ski track Gvozdac.
Clicking bottom on the map you can see it in bigger resolution.


grand kopaonik
Six former executives of the Genex company administration were arrested for an alleged abuse of office Wednesday.
Former director Milorad Savicevic, former general directors of Generaleksport Petar Novakovic and Ivica Lukic, director of the Privatization Agency's legal center Ljiljana Mladjan, former director of the Kopaonik tourist agency Nebojsa Premovic, and general director of Internacional CG Vladimir Gajic were arrested in the raid.
They are suspected of abusing their positions and incurring damages worth some EUR 20mn to the company budget.
According to a police statement, the executives are suspected of illegally acquiring 1.2 hectares of land and selling the property without a tender to the consortium Neimar V, Kemoimpeks and Ivra in 2004.
On this property, buildings totaling 25,000 square meters were constructed.
The executives are also suspected of other illegal use of company funds and allowing free use of tourist services in several hotels at the Kopaonik mountain resort, which cost the Internacional CG company some EUR 55,000.
All of the suspects are currently in police custody.
Source: B92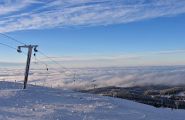 kopaonik staze
This is title of one site that wrote about Kopaonik,
skiing locations you most go for these reasons
, as subtitle explains why Kopaonik is one of the ski centers is in their content. If you want to read more folow the
link
.

Serbian Minister of Infrastructure Velimir Ilic at a press conference held at the Serbian government that this Ministry continued the work started by the previous government which has so far made 1,000 facilities and several thousand apartments from various programmes and paved around 3,000 kilometres of road with asphalt.
Ilic said that great attention has been paid to reconstruction of roads in mountainous regions and gave the example of the Zlatibor-Kokin Brod road, leading to Kopaonik, and construction of infrastructure on Stara Planina mountain.
He said that many local roads have been reconstructed in the Raska district, as well as in eastern Serbia where infrastructure has been neglected for years.
He recalled that the European Investment Bank and the European Bank for Reconstruction and Development approved two credit lines worth €140 million, intended for reconstruction of rail infrastructure and motor pool.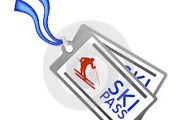 English agency Thomson, through most visitors from Great Britain arrives to Kopaonik, has announced prices of ski pass for the next season.
This agency offers six days ski pass for the price of £83 for adults while children ski pass costs £54 for six days.
Price for foreign citizens is about 40% higher than last year.
Respect of others - All slope-users must always behave in such a way that they do not endanger others nor harm them by their behaviour or their equipment.

Control of speed and behaviour - All slope-users must adapt their speed and behaviour to their personal capacities as well as to the general conditions of the slope, weather, snow conditions and density of other slope-users existing at the time.

Choice of the direction by the slope-user above - The slope-users who are higher up the slope are in a position which enables them to choose their trajectory. They must always make this choice in such a way that they do not endanger the slope-users below.

Overtaking - Overtaking may take place above or below, to the left or to the right, but must always be undertaken with sufficient space to take into account the evolution of movement of the slope-user being overtaken.

Entering, starting off from and crossing slopes - When ever entering, starting off from or crossing slopes, all slope-users must check visually up-hill and down to ensure that they can do so without endangering themselves or other slope-users.

Stopping - All slope-users must avoid stopping in narrow places or areas of restricted visibility. In the event of a fall, they should remove themselves from the slope as quickly as possible.

Walking up or downhill - Any slope-user who is obliged to move up or downhill on foot must keep to the side of the slope and ensure that neither he nor his equipment endangers other slope-users.

Respect for information, signs and sign-posting - All slope-users must respect information, concerning weather conditions, the condition of the slopes and of the snow. They must respect signs and signposting at all times.

Assistance - Any person who is a witness or instigator of an accident must give assistance. In particular, by giving the-alert. Should the need arise, and at the request of the mountain rescuers, he must place himself at their disposal.

Identification - Any person who is involved in, or witness to, an accident must identify themselves to the Piste Patrol (or Emergency Service) (and to any others involved in the accident).
Natural monuments - Geomorphological monuments - stone granite sculptures: Lisicja stena, Pajin grob, Suvi vrh, Jankov breg, Babin grob, Visoki deo, Karaman - Vucak

Geomorphological monuments - traces of Pleistocene glaciation: Circ Krcmar, Circ Siroki do, Circ V. Gobelja.

Geological monuments: Velika stena, Velika Siljaca, Jelica, Zljeb, Gvozdac, Ostri krs.

Hydrological monumants - springs and fountainheads: Fountainhead Duboko, "Geyser" Gvozdac, Spring Marina voda, Spring Krcmar, Waterfall Barska reka, Semetsko jezero-lake.

Hydrological monuments - strictly protected water - courses of the river basins: Samokovska reka, Gobeljska reka, Barska reka, Brzecka reka, Duboka reka.
Remains of the medieval road - Kukavica (about 4 km).
Remains of the medieval former mine site - village Zaplanina, Samokovska reka, Kadijevac, Suvo Rudiste, Brzecka reka, Bela reka.
Buildings of the sacral architecture - site of a former church in Metodje, church of Sv. Petar and Pavle in Kriva reka, Building from the Turkish period - turkish bath in Josanicka banja.
Monuments from the liberation wars: monument on Mramor, monuments Djacki grob, Raskrsnica, monument to the victims of fascism in Kriva Reka.
Other monuments - Pancic Mausoleum (placed in the complex of the special purpose).
Business buildings constructed in the past - Mijatovica jaz.
Housing buildings constructed in the past:village Lisina, village Djordjevici, village Crna Glava, village Kriva Reka, village Brzece.
Business buildings constructed in the past - water mills and saw mills: Brzece, Kriva Reka, Gobeljska reka, Josanicka Banja.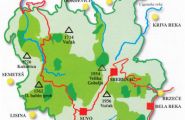 National Park Kopaonik was founded and proclaimed in 1981. It covers an area of 11.800 ha, and has a protecting belt of 19.986 ha, 689 ha of the wildlife refuge is under special peotection. The park is placed on the highest parts of the mountain.
The base of the park represents mountainous, relatively levelled region of the medium height above sea - level about 1700 m. The lowest altitude is about 640 m above sea - level. The highest altitude is Pancicev vrh (2017 m).
According to the laws of the Republic of Serbia on protection of nature, a large number of objects of nature, natural and man-made objects which can be found in the National Park Kopaonik, are singled out and classified according to the different of protection. Natural wildlife refuges of NP
1.
Kozje stene
- with relict groups of juniper trees, fir trees and heather and a large number
of relict kinds and vegetation of rocks.
2.
Vucak
- includes unique group of fir tree and juniper tree (this combination may be seen only on Zlatibor and here), as well as two groups of juniper tree, fir tree and beech tree.
3.
Mrkonja
- includes group of beech tree and fir tree of the preserved structure in the conditions of the degraded soil.
4.
Jankova bara
- the biggest pear-bog on Kopaonik, with a large number of peat-bog gruops as well as the specific groups of juniper tree, fir tree, Austrain/black and Scots pine.
5.
Gobelja
- wildlife refuge of the representatives of the mountain, climate-regional groups and distinct groups of ostenjak with habitats of extremely rare and jeopardized species.
6.
Barska reka
- includes forest groups of beech tree, fir tree and juniper tree of relict character, which are important for the science.
7.
Samokovska reka
- includes extremely interesting and various groups of juniper tree with moss, common sorrel, wood-rush and others, as well as vegetation of peat-bog.
8.
Metodje
- includes six phytocoenologically different groups of juniper and beech trees and the number of other rare and relict plant spacies.
9.
Jelak
- includes interesting ecosystem of beech and fir inside which wee meet important and rare species - yew - tree.
10.
Suvo Rudiste
- characteristic representative of the mountainous region at the top border of the forest vegetation with groups of climate-regional groups of blueberry, juniper bush and sub - alpine juniper tree, as well as with the groups of tipac and metlicasta vlasulja.
11.
Duboka
- in the municipality Brus - includes parts of relict group of beech tree with bulrush, as well as group of beech tree with hornbeam (a unique group on Kopaonik).
12.
Jelovarnik
- hydological and geomorfological monument, fall with three cascades of hight 70m, surrounded with intteresting ecosystem of beech and junipertree, rocks and waterfals.
13.
Bele stene
- (Withe rocks) - geologocal monument rocks massif of the limestone at the upper border of the vegetation in community with bluberry, juniper bush and junipertree.

Early Byzantin basilic ruins /IV-V c./ isdiscovered in the year 1999, in site Crkvina -Nebeska Stolica at 1800m a.s.l. (E-6).
Historical traces of the broader region of Kopaonik reveal lllyrian and pre-lllyrian heritage. Roman settlements and later Slav consolidation.
Medieval sources, the charters of Stefan Nemanja and his successors, note this region as a parish in the region of the lbar, from Zvecan to the river West Morava with Kopaonik in the center of the region.
Ruins of the fortifications placed on the mountain tops surrounding the central massif prove the historical significance of the Kopaonik region, like of the center of the Serbian medieval state (ruled by the Dynasties Nemanjic, Lazarevic and Brankovic).
Towns Zvecan (XI-XIV century), Maglic (XIV), Brvenik (XIV), Vrh Lab (XIV), Koznik (XV) guarded fertile region of the wine - growing district, ore and forest wealth of Kopaonik and rich pious foundations of the Serbian rulers:

Petrova crkva (VIII - IX century) near Novi Pazar
Studenica (XI _ XII century) near Usce
Zica (XIII century) near Kraljevo
Sopocani (XIII century) near Novi Pazar
Djurdjevi stubovi (XII century) near Novi Pazar
Gradac (XIII century) near Raska
Pavlica (XIV century) near Raska.
Kopaonik has a rich mining past. The historical sources note King of Raska Stefan Uros I who brought from Germany hired miners, know as Saxons. The miners' settlements and towns, together with the melting plants and mints: Stari Trg, Novo Brdo, Rogozno, Plana, were situated in the surrouding district.

Mining region of Kopaonik was the most prosperous in XTV and XV century during the Despotate when it developed trade with the Dubrovnik Republic, Byzantium and Western Europe.
Mining of this region was ruined after the raids of the Turks in XV century and it revived in the XIX and XX century.
Even today, we can find the remnants and traces of the old excavations from the Roman and Medieval times on Kopaonik.

Kopaonik is situated at the border of two significant Balkans provinces, Illyrian (western and more humid) and Moesian (eastern and drier) with considerable influence of southern, mediterranean and sub-mediterranean regions and northern Pannonian regions.
Favorable hill and mountain climate with considerable quantities of the water sediment and snow cover guarantees a long period of vegetation and a creation of a large volume of biomass.
Heterogeneous geological foundation (granite, metamorphic, limestone and serpentinite) enables detainment of humidity and water reserves which are sufficient enough for life of plants and other organisms.
During severe winters, thick snow cover protects permanent and delicate parts of plants, animals and other organisms from low temperatures and frosts.
Geomorphological and orographic characteristics enable formation of the most various habitats of the plant and animal world in proportion to the height above sea - level, exposure, ground slopes and other.
Favorable natural conditions of this high mountain massif enable development of almost all the forest mountainous belts with prime and autochthonous forest vegetation wich used to spread to the very mountain tops, where at those times had two smaller areas covered with mountainous bushy and grassy vegetation of the Alpine - Nordic character.
That's why the plant world (flora) of the Kopaonik massif is so rich and various.
It contains numerous and various species of trees, bushes, herbaceous plants, seed plants, fern, moss, lichen, mushrooms etc. A lot of them have healing properties and they are known as herb teas (Klamath weed, wild thyme, milfoil etc.).

Above the forests in the lower regions (Turkey oak, hornbeam, oak - tree, common pear tree), there is a belt of beech tree forest (Fagus moesiaca) in which there are mapie (greater maple) and sugar maple (Acer pseudoplatanus, Acer platanoides), ash - tree (Fraxinus excelsior), common maple, lime - tree and at the higher regions fir trees (Albies Alba).
The highest forest belt on Kopaonik placed on the altitude of 1500 m is covered with thick spruce forests (Pieceetum excelsae).
At the highest altitudes (1750 -1900 m) the spruce forests become less thick and they are replaced with low bushes where the most prevailing plants are juniper - bush (juniperus nana) and blueberry (vaccinium myrtillus) as well as the other species of the ground floor among which we should single out Gentiana Lutea, great mullein and edelweiss.
Endemic species, like Leontopodium alpinum, ought to be particularly pointed out. The higest regions are covered with grassy vegetation of pasture - grounds.
Distinct characteristic of the plant world of the high Kopaonik is represented by peat-bogs. Peat-bogs are not very thick with specific plant species of peat. Peat-bogs of Kopaonik are over 1000 years old. Here, they are called Bare. The most famous ones are: Jankova bara, Crvene bare, Barska reka.
Animal world - Fauna
The animal world of the present Kopaonik is various despite it being reduced in number, especially of the big game. Several decades ago, bear, lynx, deer, wildcat, marten, otter and falcon and horned owl used to live here.
Today, the only species left are wolf and other game such as doe, fox, hare, and also different kinds of birds - small number of horned owl, falcon, partridge, eagle, as well as the bird red crossbill which feeds on conifer seeds.
Among the insects, we should point out Sibirian grass - hopper which lives in the high cold regions of the mountain.
The brown trout lives in the clear waters and rapids of the Samokovska reka.
The northern border of the massif is separated from the massif of the mountain Zeljina by the rivers Josanicka reka and Koznicka reka.
The eastern side is bounded by the rivers Rasina and Toplica valleys.
The region's geology dates back 70 million years ago when the older sedimentary rocks were exposed to the strong tectonic movements and to the volcano activity which caused dent and issue of the magmatic cliffs.
The later processes of erosion during past millenniums created present-day outlines of the relief of Kopaonik.
Climate of Kopaonik, with almost 200 sunny days annually, deserves credit for Kopaonik's other name - "mountain of the Sun". The southern position of the massif, level and openness of the terrain prevent continual detaining of cloudiness over the mountain. Colder and heavier air moves through the nearby valleys and ravines so that winter temperatures are not too low. Kopaonik has sub-alpine climate. Average annual temperature of the Flat Kopaonik is 3,7°C.
It starts snowing at the end of November and it snows until May, 159 days a year in average. On average, precipitation are higher than 1000 mm a year.
kopati - to dig
).
The volcano activity and discharge of hot mineral solutions caused changes on the nearby old rocks because of high temperatures and heavy pressures.That is how "mining region of Kopaonik" came to be, with a large number of mines from old times.
In the Kopaonik region, besides the usual ores: metals iron, lead and zinc, there are rare metals silver and gold and rare minerals: volastonite,fluor-spar, asbestos and others.
Besides thermal waters, there are also slightly mineralized waters on Kopaonik. In the first place, these are slightly radioactive springs Krcmar vode and Marine vode at the heights of 1700 -1950 m.

There are currently 98,000 tourists in Serbia, up about two percent on the same time last year, official data shows.
The Serbian Tourist Board (TOS) report claims that of that number, some 30,000 are unregistered and staying in private accommodation.
It adds that the most popular place is Sokobanja spa with 18,000 visitors, of which 5,500 are unregistered.
Zlatibor mountain resort is the second with over 12,000 tourists ( 4,500 unregistered), then Vrnjačka spa with almost 10,000 (3,000 unregistered), and
Kopaonik/Brzeće with around 1500 (320 unregistered).
According to TOS, Zlatibor is the most popular destination among foreign tourists and those from the former Yugoslav republics, with 619 guests currently staying there.
Source: B92

This winter season, that will be characterized with the lack of snow, started 25 december 2006, lasted 115 days until 17. April 2007.
Kopaonik gained two more four-chair lifts worth 7.8 million euros. Duboka II ceremoniously started working on 8 January 2007, while work of Duboka I was late more that three months and officially since 8 match 2007 is in function. During summer of 2006 Krcmar was cleaned from cluster bombs and was opened for skiers on 30 January, after more than 8 years since last ride. Struga, 14 years after its installation still doesn't work, owing to lack of snow and technical problems. It was announced that during winter two more ski lifts will be built, one from Kosovo side and one from Vikend settlement for next season.
Regulation and arrangement of ski tracks was better than last years even thought it is still far from good and normal. Every year more foreign tourists are visiting this mountain. Kopaonik visited large number of tourists from England , than Hungary , Macedonia , France and Russia …
This year price of ski pass was higher than last years, approximately for 20%. Ski pass for first week was for free while in last three weeks it was cheaper for 50%. Foreign visitors paid for ski pass 30% cheaper than local residents, even when it was about paying for children ski pass.
Do to human negligence (care) fire braked out in house at the top of "Pancic expres" .
At Duboka I, Gobelja relej and Pancic was held several contests in skiing and snowboarding, several had international character.
InfoKOP site begun with work on 1 November 2006 and in five months had 319 754 visits (1/6 in English version), 2 886 pictures were placed, thereof 627 pictures are from visitors, 312 articles were announced (93 on English version), we had 1454 impressions and 901 comment in news, 2 500 messages at forum, thereof 1 072 on foreign languages. In cooperation with Jat apartments and Ski bife Jaram we placed first two web cams at Kopaonik, in action for lower prices of ski pass we gathered 1 500 signatures that were forwarded to JP "Skijalista Srbije" but without no replay.
We would like to take this opportunity to thanks all visitors that visited our site and participated actively in its creation. This big number of visitors and trust that we gained obligate us to be better in future.
Stay with InfoKOP and in the next period because the site will present you what Kopaonik has to offer you in summer period.
Prices in period
24.03.07.- 27.04.07.
28.04.- 06.05.07.
type
child
5-12y
vet.
65-75y

child
5-12y
vet.
65-75y
Deposit

400

400

400

400

400

400

9-13h

400

500

400

300

400

300

12:30-17h

500

600

500

400

500

400

Night 19-22h

400

400

400

300

300

300

One

600

900

600

500

800

500

Two

1 000

1 500

1 000

800

1 300

800

Three

1 500

2 200

1 500

1 300

2 000

1 300

Four

2 000

2 800

2 000

1 800

2 600

1 800

Five

2 300

3 400

2 300

2 100

3 200

2 100

Six

2 600

4 000

2 600

2 400

3 800

2 400

Seven

2 900

4 400

2 900

2 600

4 200

2 600

Ten

3 600

5 500

3 600

3 400

5 300

3 400
* Children under 5 yeras old and veterans over 75 yeras old do not pay ski pass

We are honored to represent you new Web cam of Kopaonik, which has been instaled with the assistance of Ski Cafe Jaram. We hope that this web cam will be of great use to acknowledge weather forecast at Kopaonik.
Once more we are would like to thankful Ski Cafe Jaram, who are one of those who had understanding for ours efforts to encounter tourists and guests.
Author of this site would like to thanks Ski Cafe Jaram for long standing hospitality.

In London's Independent on 4 february 2007 year author of the text Natalie Holms wrote something about Winters at Kopaonik. To read the whole text follow the
link >>>

There is a large number of ski instructors at Kopaonik, some of them with licenses all the way to those accustomed middle skiers. There for you should be very careful in choosing your ski instructor, especially if that is your first time to try yourself in skiing. Than you need ski instructor that will direct you in a right way from those elementary things, for example the right posture that is most important and later have to get downhill on most steeper slope. Don't save your money on ski instructor cause if you learn those things on the wrong way you will need a lot of time to fix them and change them with correct and proper way.
Interesting thing at Kopaonik is that ski schools have advantage in getting in ski lifts so you don't have to wait in lines. Usually three official ski schools have that right but in practice all ski instructors with their scholars use that right.

Want to rent ski equipment, snowboards, to fit your Bindings, to prepare your skies for new season, to reaper damages, to wax, to sharpen edges, to fix shoes? You can do that in some of many ski services at Kopaonik.
Important thing for you, before going to ski or snowboarding, is to take your equipment to service. Adjusted bindings, waxed superficial parts and sharp edges are some of most important prerequisite for good and safe skiing.

Telephone:

+381

63466466

E-mail: This e-mail address is being protected from spam bots, you need JavaScript enabled to view it
Website:

www.gss.rs

Work Hours:

Non Stop
Mountain Rescue Service is voluntary and unprofitable organization driven primarily by the cause of helping and rescuing endangering of injured people from difficult, mountain and urban environment. Our skills are equipped rescuers are the last resort and hope for people in need. We take our role in cases when relevant civil and military instances have no more solutions.
MRS is a specific and elite part of Mountaineering Association of Serbia and Montenegro. It was founded in 1953 as a part of climbing and alpinist division. Organization, members, equipment and techniques of MRS were very much the same as of the similar organization and services throughout Europe's Alpine region.
Today, MRS specializes in performing rescue in high mountains, rock, caves, skiing centers and urban environment, in every conditions. Our service numbers about 150 active members at this time, members are experienced mountaineers, climbers, alpinists, speleologists, skiers, scuba divers, paraglidists, etc. who are most influential in their basic mountaineering associations. During all these years of our rescue work we gained recognition for devotion, courage and efficiency judging by people in need who were satisfied by our service. Therefore at the present, MRS is a specific trademark of Serbia mountaineering and all other related activities.
If you are in need you can get Mountain Rescue Squad at Kopaonik by calling number
+38163466466
, and all other information's on their internet address at
www.gss.rs

During past couple of days it was snowing, about 20-30 cm of snow covered ski track so now the level on ski track is about 70 cm. If you take a look at forecast we can expect more snow in next couple of days.
Ski center Kopaonik works with maximum of capacity.
Roads are passable, winter equipment is obligatory.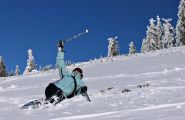 New gallery has been added on our pages dedicated to photos of Kopaonik, contains 168 photos taken from 20th january till 3th february 2007.
If you want to take a look, follow the
link >>>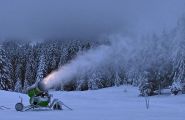 Not because lack of snow, new snow guns were tried on ski track Malo Jezero so now ski track on Kopaonik can bragg with artificial snow made with new snow guns ;)
In order for you to see them in action we send you two photos of them.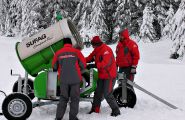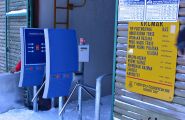 After 8 full years on of the best ski tracks on Kopaonik is in function. Upper part of track is easy and the best part is from entering the forest until you get to middle-station after that comes very steep part but has a lot of vegetations so you have to avoid them during skiing.
It is disordered mostly because it hasn't been in use for so many years do to cluster bombs which were dropped there during the NATO bombing in 1999. so you should be very careful and look out for vegetation.
Of the record, from workers we found out that the end of construction Duboka should be in February.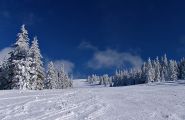 Lots of snow, sun and see of clouds under you, what more can you wish for:)
In order to conjure up the beauty of the day we have placed for you hire three photos so you can suite yourself it its worth to come to Kopaonik
Clicking on each photo you should see them in bigger format.


In our
photo gallery
, infoKop made possibility for visitors to put their photos from winter holiday.
All you need to do is to register in gallery after that you will be enabled to place photos. Each register user will have directory of his own to put photos of Kopaonik.
Size of photo should be 800x600 pix which is quite enough for internet presentation.
This is opportunity to make kind of community or way for us to recognized each other on ski tracks at Kopaonik.
Register here and place your photos
>>>

Yesterday during night and day, snow height has reached over 30 cm, from this morning fogginess is very height, it is snowing from time to time and wind has reached its speed over 25 m/s at Pancicev vrh.
Due to bad weather conditions, ski center Kopaonik works with minimum of capacity, ski lifts Suncana dolina, Malo jezero, Karaman greben, Mali karaman and Masinac are in the function.
On account of better organizing site, passing over information's that are most interesting for the visitors of the site, InfoKop enabled you
infoKop internet discussions
, that way you can get directly in contact with other visitors, so you can mutually exchange information's.
InfoKop discussions are open, so fill free to ask anything you want to know, things that you are interested in!

We'd like to wish everyone a very happy and a prosperous new year with lot of snow and beautiful days on it!
InfoKop has enabled for you Wap page so you could get more informations when you do not have you computer near you.
Try GPRS and using any model of mobile phone with (that supports WAP reader) you can see weather forecast on Kopaonik at the moment, detail daily ski info and see web cam from Jat apartmans.
Wap address that enables you this information is: wap.infokop.net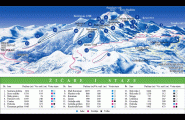 Event thought there is a little snow, starting this week Ski center Kopaonik started working. Do to lack of snow it works with minimum of capacity and open tracks are: Malo jezero, Pancicev vrh and Karaman greben. So InfoKop enabled for visitors daily ski info from Kopaonik.
At the home page, in block on your right side, you can take a quick look of ski info with numbers of ski lifts that are in function on the same day (dark numbers of tracks represents tracks that are in function), Clicking on detail ski info you can get a full ski info that consists of ski tracks, snow level, cloudiness, wind speed, road passage. This parameters are taken every day at 9 am.
Informations are taken every day and being noted in the base, so you can at any moment take a look in archive of ski info reports.


Dear Visitors, we would like to represent you two novelties on our site:
First is web archive so you can at any moment see what the weather forecast is like on selected day at 8, 10, 12 am and 2 and 4 pm. It contains pictures from 5 December 2006, simply choosing day, month and year on your right side under current web picture and clicking on submit, you will be opened a new sheet with pictures of chosen day.
Second one is "SKI forecast" so you can take a look what the weather forecast will be like in next 10 days, which we are getting indirectly from the weather channel.
We hope that these two novelties can give you possibility to see as much as better what's the weather like at Kopaonik.
Prices in season 2006/2007 (in dinars currency)
29.12.06.- 02.03.07.
01.12.- 28.12.06.
28.04.- 06.05.07.
03.03. - 27.04.07.
type
child
5-12y

senior

vet.
65-75y
child
5-12y
senior

vet.
65-75y
child
5-12y
senior

vet.
65-75y
9-13h

800

1.000

800

700

900

700

700

900

700

12:30-16:30h

1.000

1.400

1.200

800

1.100

1.000

900

1.200

1.100

One

1.200

1.800

1.300

1.000

1.600

1.100

1.100

1.700

1.200

Two

2.100

3.100

2.300

1.900

2.900

2.100

2.000

3.000

2.200

Three

3.000

4.500

3.400

2.800

4.300

3.200

2.900

4.400

3.300

Four

3.900

5.700

4.400

3.700

5.500

4.200

3.800

5.600

4.300

Five

4.600

6.900

5.100

4.400

6.600

4.900

4.500

6.700

5.000

Six

5.300

8.000

6.100

5.000

7.700

5.800

5.200

7.800

5.900

Seven

5.900

9.100

6.900

5.600

8.700

6.600

5.700

8.800

6.700

Ten

7.500

11.400

8.600

7.100

10.900

8.200

7.300

11.100

8.400

Seasonal

35.000

55.000

45.000

30.000

50.000

40.000

35.000

55.000

45.000

Seas.(no pict.)

45.000

65.000

55.000

40.000

60.000

50.000

45.000

65.000

55.000

Night (19-22h)

900

900

900

700

700

700

800

800

800

Deposit

400

400

400

400

400

400

400

400

400
* Children under 5 yeras old and veterans over 75 yeras old do not pay ski pass


1 British Pound = 116 Dinar (CSD)
1 Euro = 79 Dinars (CSD)
1 USD = 61 Dinars
Skipass:
is valid throughout Kopaonik ski Resort

card holders have an obligation to show their skipasses on sight by autorised personnel

the skipass is a personal document and it not transferable

any misuse is subject to cancellation od the card

in case the ski lifts are not operational due to sefety/tehnical reasons or weather conditions, money will not be refunded

We are honored to represent you the first Web cam of Kopaonik, which has been instaled with the assistance of Jat Apartmans. We hope that this web cam will be of great use to acknowledge weather forecast at Kopaonik.
Once more we are would like to thankful Jat Apartmans, who are the only ones who had understanding for ours efforts to encounter tourists and guests.
Author of this site would like to thanks Jat Apartmans for long standing hospitality.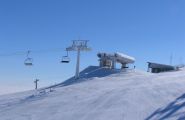 The most developed winter resort in Serbia on Kopaonik mountain will have two four chair lifts added to its infrastructure.
Construction works have started in September to upgrade the network of ski lifts on Kopaonik Mountain, the most prominent winter resort in Serbia. The project is financed by the Serbian Government from the National Investment Plan. A total of 50 million euros will be invested in tourism in Serbia during the course of next year.
The Serbian language is one of the standard versions of the Stokavian dialect, used primarily in Serbia, Montenegro, Bosnia and Herzegovina and by Serbs everywhere. The former standard was known as Serbo-Croatian language, now split into Serbian, Croatian and Bosnian standards.
The Serbian alphabet is very consistent: one letter per sound with an insignificant number of exceptions. This phonetic principle is represented in the saying: "Write as you speak and read as it is written", the principle used by Vuk Stefanovic Karadzic when reforming the Cyrillic spelling of Serbian in the 19th century.
Another rare feature of Serbian language is the presence of two alphabets: Cyrillic and Latin. The two alphabets are almost equivalent; the only difference is in the glyphs used. This is due to historical reasons; Serbian once being a part of the Serbo-Croat unification brought Latinic usage into Serbia.
Serbian: српски, srpski - /srp-skee/(srpskee)
hello: здраво, zdravo /zdrA-vO/ (z like in zebra)
good morning: добро јутро dobro jutro
good afternoon: добар дан, dobar dan
good evening: добро вече, dobro veče
good-bye: довиђења doviđenja /dOvidjεnja/
please: молим molim /mO-lim/ (moleem)
thank you: хвала hvala /hvA-la/
that one: то to (not as English to)
how much?: колико? koliko? /ko-lε-ko/ (coleeco, co-, -co => cup)
English: енглески engleski /εn-glε-ski/(-skee)
yes: да da /dA/
no: не ne /nε/
generic toast: живели! ziveli! /ʒi-vε-li/(zhiveli)
sorry: извините izvinite /ezveeneete/ (formal)
I don't understand: не разумем ne razumem /nεrAzUmem/
Where is [the bathroom (toilet)]?: Где је тоалет? Gde jetoalet? /gdε jε toAlEt/
Do you speak English?: Да ли говорите енглески? Da li govorite engleski?


А а - A a is pronounced like a in father.
Б б - B b is pronounced like b in bed.
В в - V v is pronounced like v in very.
Г г - G g is pronounced like g in good.
Д д - D d is pronounced like din day.
Ђ ђ -Đ đ is pronounced like j in joy.
E e - E e is pronounced like e in men.
Ж ж - Z z is pronounced like su in lesure.
З з - Z z is pronounced like z in zoo.
И и - I i is pronounced like i in h e.
ј ј - J j is pronounced like y in you.
К к - K k is pronounced like k in kind.
Л л - L l is pronounced like l in look.
Љ љ - LJ lj is pronounced like li in million.
M м - M m is pronounced like m in moon.
Н н - N n is pronounced like n in not.
Њ њ - NJ nj is pronounced like ni in onion.
O o - O o is pronounced like oo in door.
П п - P p is pronounced like p in pen.
Р р - R r is pronounced like r in room.
С с - S s is pronounced like s in son.
T т - T t is pronounced like t in top.
Ћ ћ - Ć ć is pronounced like ch in check.
У y - U u is pronounced like u in rule.
Ф ф - F f is pronounced like f in fish.
Х х - H h is pronounced like h in his.
Ц ц - C c is pronounced like ts in lots.
Ч ч - Č č is pronounced like ch in chalk.
Џ џ - Dz dz is pronounced like j in joy.
Ш ш - Š š is pronounced like sh in she.
92 - Police
93 - Fire department
94 - Urgent medical help
95 - Time
96 - Telegrams
9821; 981 - Information
987 - Road assistance
985 - Information centre
901 - International calls
The currency in Serbia is 'Dinar' - this is hard to come by in the UK as most banks don't stock the currency.

You can buy your currency at Belgrade or Nis airport when you arrive.

Dinar banknotes are available in units of 5, 10, 20, 50, 100, 500, 1000 and 5000 coins are called 'para'. Please, do not rely on credit cards for local purchases. MasterCard and Visa are not generally accepted. Cash machines are available in Belgrade town and Kopaonik mountain.
Exchange offices and banks abound, particularly in the centre and around tourist areas (Belgrade or Nis Airport - arrival hall, Main Railway station - exit area, etc.). They don't charge handling fee for these services. In order to exchange money you are supposed to present your passport (usually in banks only). Always ask for a receipt and always count the money you received. All licensed exchange offices are properly signed ('Menjacnica | Exchange'). Do not change money on the street! There is no foreign currency black market anymore.
You can easily reach any part of the world from Serbia, using telephone connections. Mobile telephones and public telephone booths are at your disposal. Cards for telephone booths are available at newsstands.
Taxi transportation is reliable, but some drivers tend to charge extravagant rates when transporting foreigners. Ask your hotel reception about rates and let them call you a taxi. When hail a taxi on the street, make sure the taximeter is not on from the previous ride. Drivers must turn the taximeter on when passengers enter the cab and turn it off when they reach the final destination. You may also prearrange a pickup by calling a cab company and giving a location, pick up time, and destination.
Taxi associations in Belgrade:
Beotaxi: 970
Zuti taxi: 9802
Pink taxi: 9803
Taxi Bel: 9808
City taxi: 394-0022
Banks are open from 8 am to 8 pm weekdays (8 am - 5 pm on Saturday).

Groceries:
on weekdays 6:30 AM - 8:00 PM (some until 9:00 PM)
on Saturdays 6:30 AM - 6:00 PM (some until 9:00 PM)
closed on Sundays (some open 7:00 AM - 1:00 PM)
Shops on duty are open on Sundays 7:00 AM - 11:00 AM
Markets are open every day 6:00 AM - 5:00 PM
Shops at shopping centres are open 9:00 AM - 8:00 PM
Department stores:
on weekdays 8:00 AM - 8:00 PM
on Saturdays 8:00 AM - 3:00 PM
closed on Sundays
Non-stop shops are always open.
On Saturday most government offices are closed, but shops stay open until 3 pm. Museum opening times vary greatly (usually 9 am -5 pm), but almost all are closed on Mondays, with exception of the Museum of Serbian Orthodox Church, situated in the Patriarchate building.
Belgrade, Kopaonik and Serbia the Central European Time (CET) zone (GMT+1 hour), as well as the most countries of Western Europe.
Summer time counting (GMT+2 hour) starts on the last Sunday of March and lasts until the last Sunday of October. The current in all regions of Serbia is 220 Volts, with plugs of two round pins, as everywhere in southern Europe.

Rakija (rah-key-ya) - traditional serbian plum brandy, though it may be pear or grapes as well... Totally different experience from anything that you have triedbefore. Feel the scorching liquid transcending you onto a higher level, in this case grounding you like a sledge hammer. Try to find the bottles with built in yew-tree crosses or inserted various mountain herbs that add some tremendous flavor! Try to stay sober with this!

Slatko (slut-co) - it's not a marmalade, it's not a jam. Made of whole fruits it literally means sweet. In serbia it isusually served as an eye-opener or while you're visited by very special guests. It's purpose is to sweeten your life or if mixed with some nuts as a youth potion. Anyway, it will enrich your daily calorie intake by thousands, but open the whole jar and please your palates. You only live once! Slatko made of wild strawberries is the official energetic snack of the OC at Kopaonik!

Kajmak (khay-mac) - traditional serbian dairy product that has been eaten for centuries. The fat from skimmed milk is left in a specially designed wooden receptacle called kaca (ka-tsa) to grow old. Kaca is kept in a wooden lodge where the meat is being smoked so that kajmak can absorb the unique aroma. Feast your gustatory buds by a thin spread of kajmak over the piece of home made bread that you will easily find everywhere in Kopaonik.

Prsuta (pr-shoo-tah) - serbian smoked ham, pork or beef, doesn't matter. It is simply irresistible and unforgettable. Spiced up with some garlic or pepper and smoked for days in the same lodge where kajmak is held, it is going to tempt even the most notorious vegetarians and vegans. Enjoy the aroma that will make you come back to Serbia again, and again, and again.

Ajvar (ay-var) - traditional Serbian delicacy eaten usually in winter months, but it could be available even in summer. Made of baked and then minced red peppers, flavored with lots of traditional spices is ideal spreading for the slice of bread. It's rich aroma will make you addicted and you will be begging for more con gusto. It is just yummylicious!

Raspberry juice - is infamous national brand. No wonder that # 1 raspberry exporter in the world makes the best raspberry juice. Amazingly healthy with no additives, it will strengthen your stamina and boost your energy level during this hardworking Kopaonik week. Just find out why Naomi Campbell wasn't the same any more after she tried out this juice!

Frula (froo-lah) - is a pipe, an instrument very popular in Kopaonik region, especially among shepherds. Usually made of maple branch, cries out melancholic melody that can be heard echoing in the lush forests and meadows of Serbian mountains. Definitely you will find enough space in your backpacks on your way home for this souvenir. Everyday practice improves your lung capacity and your kissing skills as well!

Opanci (oh-pan-tsi) - forget Prada, Kenneth Cole and Cesare Piacotti! these shoes will make you feel Like you're walking on a marshmallow cloud. You could dance the night away in these babies and never feel the sore feet syndrome again. Made of genuine leather, designed centuries ago, they are definitely the most comfortable pair that you will ever slip in. Well, if you're not into being seen in these shoes in the street, you could hang their midget replica on your rear-view mirror or use them as a key chain. Yet another memorabilia from Serbia.

Painted squash - Serbian naive artist found strange ways of expressing themselves. They paint almost everything: wooden pots, frulas, stumps of trees... squashes as well. Yes, they do the canvas too, but definitely with less adrenalin rush. Themes from everyday life, landscapes and motives from Serbian folklore are depicted with vivid colours! Find a spare room on your globe trotter souvenir shelf for this one.

Serbia sounds global - it's a label of traditional Serbian music. They release only genuine artists who play typical Serbian music: bands for weddings and funerals, tremendous brisk voices of the eastern Serbian women, brass orchestras and players of rare instruments. Available in every music store in the country! Rave with it!

Smoki (smoke-ee) - if you ask seven year old or seventy seven year old Serbian: "what is smoki?" you will notice the smile on their face trying to recall the amazing experience when they have tried it for the first time. Struggling to describe the unique feeling, they will face the lack of words to depict smoki's special taste. It's basically corn flips with peanuts, available in two sizes in every store in Serbia. Once you try it, you will be diving in this red bag for days! Find out why is this a favourite snack for the generations of Serbs.
Mladen Jecmenica - YUMSIC 2006
Read more...

People of the world have mountains "of their own", the mountains they set apart from all other mountains and make them parts of their peoples's identity. With the Greeks it is Mount Olympus. The Japanese have their Fujiyama and the Russian their Caucasus. The Mexicans are proud of their Popocatepetl, the Montenegrins of their Lovcen, and the Serbs of Kopaonik.
Due to its diversity, Kopaonik is suitable for the development of tourism, mountain climbing, winter sports and recreation.
An important datum for all of these acitivities is depth of the snow cover and how it lasts. On Kopaonik, on the average, the snow cover lasts between 180 and 230 days.
Sports and recreation activities are organized on Kopaonik the whole year around, such as: sking (Alpine, Nordic and recreational), orienteering, mountaineering and free climbing, paragliding, paraskiing, snowboarding, rafting and other recreation acitivities (tennis, horse-riding and the like).
The mountain offers its visitors, lovers of nature, enjoyment and memorable experiences.