| | |
| --- | --- |
| Mountaineer cabin burns down on Mt. Kopaonik | |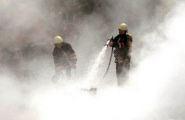 The entire roof of Rtanj mountaineer cabin on Mt. Kopaonik burned down in a fire last night. Nobody was injured but the fire caused significant material damage. Serbian police (MUP) Emergency Situations Sector Chief Predrag Marić has stated that the fire was reported at 22:00 CET last night and that a Kopaonik-based fire crew was immediately dispatched to the scene.
The fire was localized around 3:40 CET and the firefighters prevented it from spreading to the nearby forest. The fire broke out in one of the rooms and quickly spread to the roof. The entire roof completely burned down, as well as the upper floor. Only two persons were inside the cabin when the fire broke out but they were unharmed. Marić said that smaller wildfires on several locations in Serbia had been localized and put out. "There are no active fires in the territory of Serbia at the moment," Marić noted.
Source: Tanjug